Episodes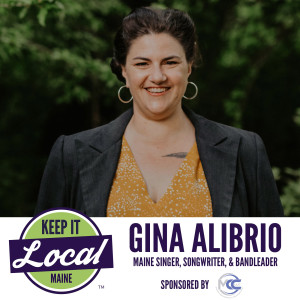 Tuesday Jul 05, 2022
Tuesday Jul 05, 2022
We had a great time talking with Maine singer, songwriter, and bandleader Gina Alibrio. We discussed how she found her way to Maine, the process of recording her new album Atlas, her favorite singers, what inspires her, and much more!
ABOUT OUR GUEST:
Gina Alibrio currently resides in Portland, Maine where in addition to being a session vocalist, she is the front-woman for the locally popular band The Red Eye Flight Crew. The band features members of nationally acclaimed acts such as Sister Sparrow & the Dirty Birds as well as Jaw Gems. She recently released her first full-length solo album entitled Atlas.
Download Atlas from Gina's Bandcamp page in a variety of formats and be sure to catch her and The Red Eye Flight Crew every Monday night through the Summer at Portland House Of Music & Events. You can follow her on Instagram and Facebook.
ABOUT OUR SPONSOR:
Weather is getting warmer and it's project planning season - which means you should call Maine Commercial Contracting - your locally owned choice for residential and commercial services in Southern Maine. They'll be there for that new driveway, walkway, or excavation for your home and for your business with parking lot paving, road milling, heavy hauling, and competitive commercial pricing. So when you need your project done right on your timeline, get ahold of the company with an appetite for excellence and the skills to see it through. Call Maine Commercial Contracting at 207-391-0540 for a free estimate or find them online at mainecommercialcontracting.com.
ABOUT KEEP IT LOCAL MAINE:
We are a way for local businesses to promote themselves to thousands of people in and around their communities - letting them know what great services and products they offer right here in Maine! We currently publish four issues in areas around Southern Maine in addition to our podcast. To learn more about us, visit keepitlocalmaine.com or follow us on social media - Facebook, Twitter, Instagram, and YouTube.