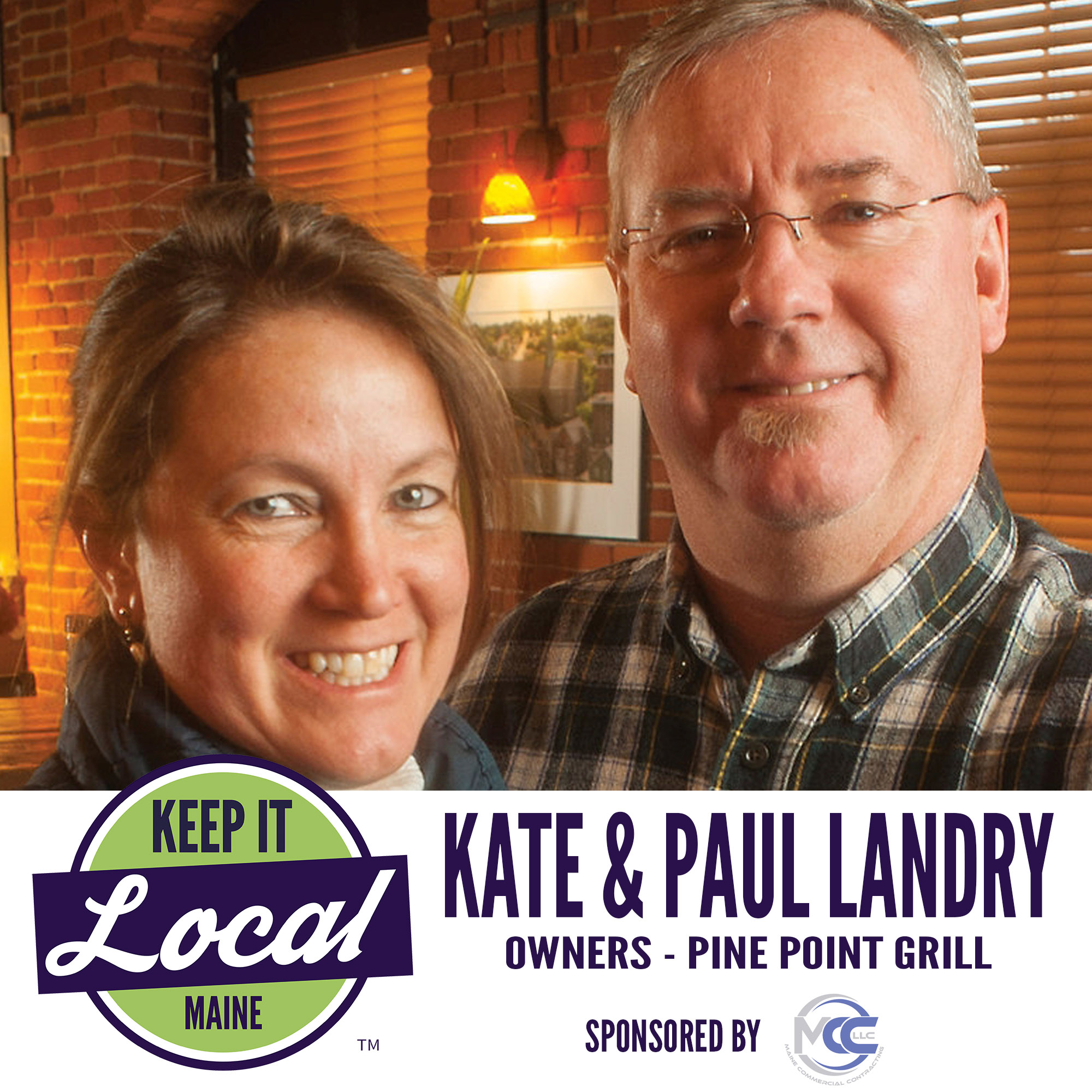 This episode, chatted with the husband and wife team of Paul and Kate Landry, the owners of Pine Point Grill in Scarborough and Fish Bones Grill in Lewiston. We talked about how they got started in restaurants, their desert island menu items, how they define success, and more!
ABOUT OUR GUEST:
Kate and Paul have owned and operated restaurants in Maine for 28 years, starting in 1994 with their first, Mac's Grill, an Auburn icon that continues to flourish under new ownership. In 2005, they opened Fish Bones Grill in the Bates Mill Complex in Lewiston, Maine as the first tenant in Mill No. 6 and was credited with helping to revitalize Lewiston's downtown area. In 2019, the Landry's opened their newest establishment, Pine Point Grill located on the Pine Point Road in Scarborough, Maine.  Considered a neighborhood bar and grill, it offers casual upscale dining as well as Artisan pizzas to eat in or take out. The Landry's currently live in Wales, ME and have continued to be active in both of their restaurants.
To learn more about Pine Point Grill, visit www.pinepointgrill.com, stop by 240 Pine Point Road in Scarborough, and follow them on Facebook and Instagram.
To learn more about Fish Bones Grill, visit www.fishbonesgrill.com, stop by 70 Lincoln Street in Lewiston, and follow them on Facebook and Twitter.
ABOUT OUR SPONSOR:
Weather is getting warmer and it's project planning season - which means you should call Maine Commercial Contracting - your locally owned choice for residential and commercial services in Southern Maine. They'll be there for that new driveway, walkway, or excavation for your home and for your business with parking lot paving, road milling, heavy hauling, and competitive commercial pricing. So when you need your project done right on your timeline, get ahold of the company with an appetite for excellence and the skills to see it through. Call Maine Commercial Contracting at 207-391-0540 for a free estimate or find them online at mainecommercialcontracting.com.
ABOUT KEEP IT LOCAL MAINE:
We are a way for local businesses to promote themselves to thousands of people in and around their communities - letting them know what great services and products they offer right here in Maine! We currently publish four issues in areas around Southern Maine in addition to our podcast. To learn more about us, visit keepitlocalmaine.com or follow us on social media - Facebook, Twitter, Instagram, and YouTube.