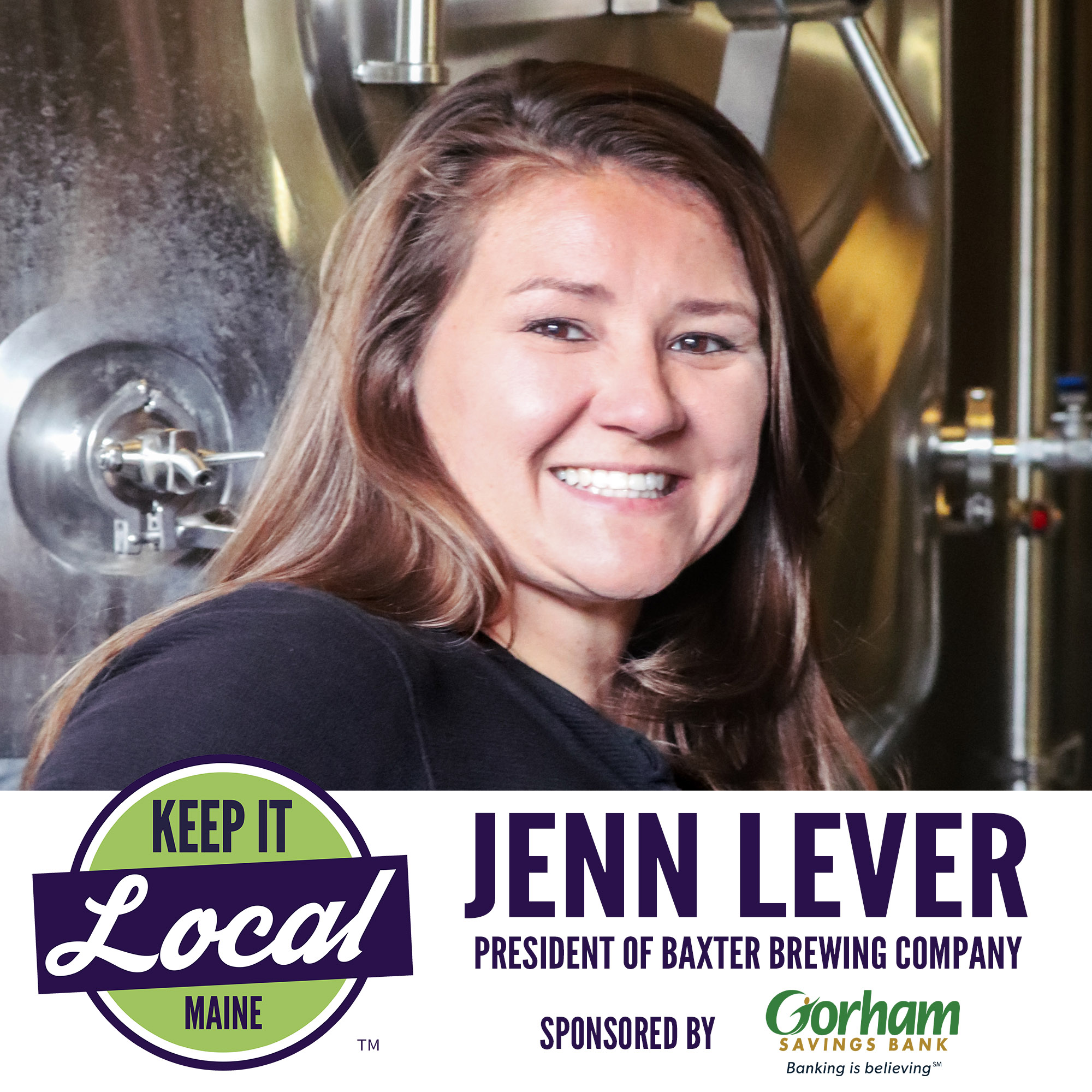 This week, we had the chance to have a conversation with Jenn Lever, the president of Baxter Brewing Company in Lewiston. We talked about how her experiences after college prepared for her current role, how she fell in love with operations management, leadership, her favorite beers, and more!
ABOUT OUR GUEST:
Jenn is an Auburn, Maine native who graduated from Edward Little High School in 2004, and then attended Hobart and William Smith Colleges, earning a BA in Economics and Sociology. In 2008, Lever ignited her career in the Food & Beverage Industry when she accepted a Warehouse Supervisor role with Pepsi Co. Her upward trajectory included successive leadership positions that took her from New York to Virginia, before returning to Maine in 2014, where she worked for three years in fresh cut vegetable processing with the Curran Company, later Growers Express. She left the role as President to take on a Director of Operations position with Baxter Brewing in 2017 and in September of 2019 she was promoted to President of Baxter Brewing. In her very first year as President, she led Baxter Brewing through the COVID-19 pandemic, launching a successful rebrand and expanding distribution while keeping the health and safety of her staff at the fore.
To learn more about Baxter Brewing Company, visit www.baxterbrewing.com, find them on shelves at a store near you, or visit The Pub in Lewiston. Be sure to follow them on Facebook, Instagram, and Twitter.
ABOUT OUR SPONSOR:
Headquartered in Gorham, Maine since its founding in 1868, Gorham Savings Bank is a depositor-owned community bank delivering a full suite of financial services tailored to the needs of Southern Maine's businesses and consumers. As the only bank headquartered in Cumberland County, GSB serves and supports businesses that value local management, know-how and accountability. The bank offers consumer savings accounts, personal loans, mortgages, HELOCs, CDs, IRAs and financial planning services through its 12 branches and growing network of ATMs, video teller machines, and mobile services. Gorham Savings Bank is a tireless advocate for the wellbeing of the communities it serves, donating thousands of volunteer hours to dozens of community-based initiatives annually. Learn more at gorhamsavings.bank. Member FDIC.
ABOUT KEEP IT LOCAL MAINE:
We are a way for local businesses to promote themselves to thousands of people in and around their communities - letting them know what great services and products they offer right here in Maine! We currently publish four issues in areas around Southern Maine in addition to our podcast. To learn more about us, visit keepitlocalmaine.com or follow us on social media - Facebook, Twitter, Instagram, and YouTube.