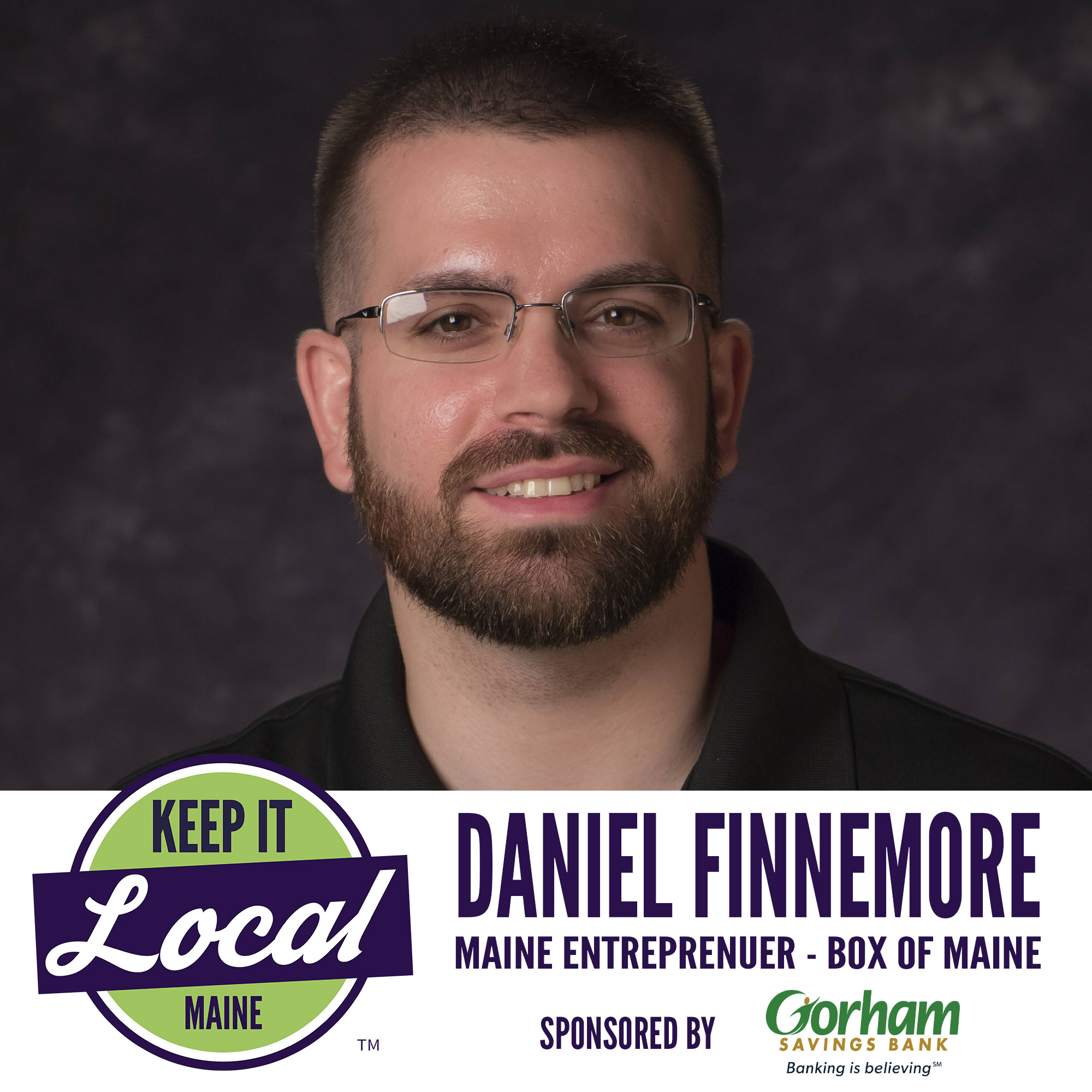 In this episode, we talked with Maine entrepreneur and business owner Daniel Finnemore from Box Of Maine. We talked about how he started selling online, how he finds the unique Maine-made products that go into his boxes, how growing up the son of an entrepreneur inspired him, how he defines success, and more!
ABOUT OUR GUEST:
Daniel was born and raised in Bangor, where he graduated high school and attended the local community college for Business Management. His father was an entrepreneur and would take him on the job when he was younger. When Daniel got married to his wife, Sarah, he soon realized that he needed to make more money so he began selling on e-commerce platforms like Ebay and Amazon. A few years later, his business Box of Maine started in the basement. He now owns his own commercial property in Old Town, where his team packages and ships Maine products in customized gift boxes all over the world.
Order your Box Of Maine at www.boxofmaine.com today! Be sure to follow them on Facebook, Instagram, Twitter, and Pinterest.
ABOUT OUR SPONSOR:
Headquartered in Gorham, Maine since its founding in 1868, Gorham Savings Bank is a depositor-owned community bank delivering a full suite of financial services tailored to the needs of Southern Maine's businesses and consumers. As the only bank headquartered in Cumberland County, GSB serves and supports businesses that value local management, know-how and accountability. The bank offers consumer savings accounts, personal loans, mortgages, HELOCs, CDs, IRAs and financial planning services through its 12 branches and growing network of ATMs, video teller machines, and mobile services. Gorham Savings Bank is a tireless advocate for the wellbeing of the communities it serves, donating thousands of volunteer hours to dozens of community-based initiatives annually. Learn more at gorhamsavings.bank. Member FDIC.
ABOUT KEEP IT LOCAL MAINE:
We are a way for local businesses to promote themselves to thousands of people in and around their communities - letting them know what great services and products they offer right here in Maine! We currently publish four issues in areas around Southern Maine in addition to our podcast. To learn more about us, visit keepitlocalmaine.com or follow us on social media - Facebook, Twitter, Instagram, and YouTube.